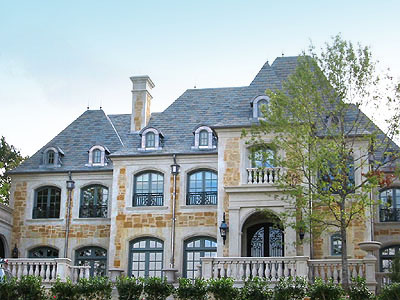 Stone house with Vermont Weathering Grey-black slate roof
Slate is one of the most beautiful, long lasting and durable materials that you can put on your roof. Slate quarried for roofing stock is of dense, sound rock and is exceedingly tough and durable. These roofs often last for a century, giving a minimum cost per year, in contrast to other types of manufactured roofing which must be replaced three or four times within the same period. Most of our slate is quarried from Vermont, Canada, Wales and Spain and is practically non-absorptive, absolutely fire and waterproof, and resistant to weather changes with no disintegration. All roofing slate used by Creative Roof Systems is Grade A for durability.
see also:

Links to manufacturers' web sites
Natural slate is a hand crafted product that can have slight variations in surface and thickness. Its colors, sizes and texture make possible many architectural effects, contributing to the appearance and functionality of any building. At Creative Roof Systems, we can provide detailed information and architectural services from single size 3/16" thickness, to intermingled rough texture in random widths, to graduated length and thickness.
Examples of slate types and colors (click to enlarge)